"To quote Bill Monroe, 'This is powerful music!' With Too Blue, the total is much more than the sum of the parts, and the parts are mighty fine…" – Barry Mitterhoff, mandolinist with Jorma Kaukonen.
Traveling freely between the genres of bluegrass, swing, Celtic and jazz, a Too Blue performance is a dynamic dose of serious fun. Smooth harmonies and adventurous musicianship bring stellar arrangements to life and leave the listener anything but "blue". Their newest release, "Trouble With the Grey", produced and engineered by Bob Harris of Ampersand Records, has received national radio airplay and enthusiastic reviews from Bluegrass Today and Bluegrass Unlimited.
Seamlessly blending their vocals are guitarist Betsy Rome and banjoist Joan Harrison. Mandolin powerhouse Michael Sassano astounds and entertains, while jazz bassist Jamie Doris brings a creative and unique perspective to the band. Together, Too Blue makes exciting bluegrass that swings and entertains.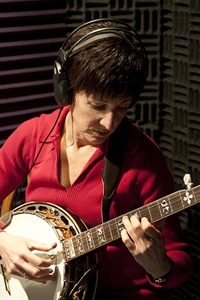 Joan Harrison
Banjo, vocals
Joan's clear and compelling vocals bring new interpretations to standards from Patsy Cline to Bill Monroe, while creating new stylings for Too Blue's original songs. A student of Tony Trischka, her melodic banjo technique is creative, graceful and at home with the band's diverse repertoire. In 2010 and 2019, Joan took first place in bluegrass banjo at the Pickin' and Fiddlin' Contest in Roxbury, CT. Her former bands include "Breakeven" and "Mike Burns and North Country".
During her tenure with Too Blue, Joan has developed considerable songwriting skills, contributing four originals to the band's latest CD, Trouble With the Grey. Her varied musical tastes are revealed by her ability to capture the lightheartedness of a catchy swing number as well as the smooth introspective feel of a contemporary bluegrass song. She is inspired by her talented bandmates and grateful for their adventurous collaboration in bringing her music to life.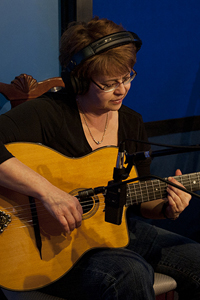 Betsy Rome
Guitar, vocals
Betsy's guitar playing has been featured in Flatpicking Guitar Magazine, and she is one of a the few female performers in this demanding style of rhythm and lead guitar. Singing together since 1995, Betsy's harmony vocals blend seamlessly with Joan's to create the signature sound of Too Blue.
Betsy Rome is well-known for her flatpicked guitar in the regional bluegrass scene. Her playing blends bluegrass, old-time, Celtic, & swing. Noted for her rock-solid rhythm and inventive leads, she has won or placed in contests including Roxbury CT and the Pizza Hut International Bluegrass Showdown, as well as the fiddler-voted Best Accompanist award at the Arizona State Fiddle Contest. A talented writer, two of her compositions are featured on Too Blue's CD, Trouble With the Grey. Betsy teaches bluegrass guitar and mandolin both privately and with The Bluegrass University at regional bluegrass festivals.
"Betsy plays with a direct, highly effective approach. She's not flashy, but that's her strength. Clever, insightful intros, outros, solos and backup parts flow from her guitar like a blue mountain brook rollicking downstream. Everything about her playing is catchy and infectious, the sign of a total pro." (Flatpicking Guitar Magazine).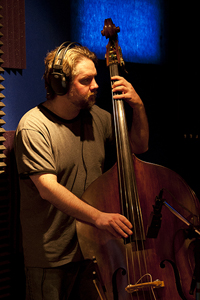 Jamie Doris
Bass
Jamie Doris lends his jazz background to Too Blue's sound. He attended the Jazz and Contemporary Music program at the New School in New York City, where he studied with jazz greats such as Reggie Workman, Buster Williams, Chico Hamilton, Junior Mance, Cecil McBee, and Arnie Lawrence.
Having supported a broad range of artists in the New York music scene during the late nineties, Jamie has developed a reputation for a solid and dependable groove, whether playing jazz, Latin, R&B, avant-garde or bluegrass. He has shared the stage and screen with the likes of Larry Goldings, John Popper (Blues Traveler), Sasha Dobson, Aaron Johnson (Musical Director, Fela!, Antibalas), and Bilal, among others.
Jamie's musical prowess and diversity brings a unique perspective to Too Blue that sets it apart and wins him new fans at every performance.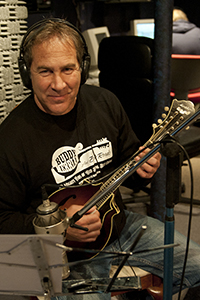 Michael Sassano
Mandolin, vocals
For over 30 years, Michael Sassano has delighted audiences with his remarkable versatility and fun-loving stage presence. The guitar-slinging kid from Brooklyn reveled in the rock and folk scenes of the late sixties and seventies; he went on to study mandolin with the renowned Jay Ungar and found himself smack dab in the middle of the New York City progressive bluegrass scene.
As a founding member of the eclectic "Out to Lunch", Michael honed his harmony chops creating dynamic twin mandolin arrangements and solos with bandmate Wayne Fugate.
He has performed with Byron Berline, Barry Mitterhoff, David Amram, Walt Michael & Company, Buddy Merriam & Backroads, Jon Sholle and Grammy award winner Lisa Gutkin. Recent projects include Ben Freed's American Idle and Buddy Merriam's Back Roads Mandolin (harmony mandolin, mandocello, mandola).
An animated and entertaining performer, Michael captivates audiences as a member of Too Blue. The band's latest release, Trouble With the Grey, proves him to be a powerhouse soloist, gifted arranger and clever tunesmith. His fearless energy and intense love of music drives him in a continuous exploration of genres and styles where surprises are the rule rather than the exception.