Too Blue featured at upcoming Benefit in Danbury
"A Common Ground's Big Bluegrass Benefit" on Fri. June 27, 7:30pm – 10:00pm, will be an open jam & potluck, with featured artists Too Blue, Korey Brodsky Band & Lisa Furman.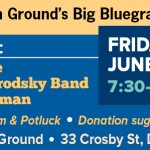 Festivities will be at A Common Ground, 33 Crosby St, Danbury, CT. All proceeds benefit A Common Ground, a Community Arts & Dance Center. Donations suggested.
---